Article
September 25, 2022
ACC Distribution and partners have found a smart solution to return workers to their jobs safely

As the number of cases of COVID-19 in Lithuania decreases, quarantine restrictions are being relaxed. From this Monday, leisure activities, long-term services, and full-scale trade will be allowed. While this decision will provide a significant respite for the business sector, employers and service providers will still be required to comply with the safe distance requirements strictly. ACC Distribution, with its partners Bioto, WMW and others, has developed a smart solution to help Lithuanians return to their jobs even more safely.
These companies' experts helped quickly adapt the new product to the local market and test it effectively. "Marius Krupoviesas, Head of IIoT at ACC Distribution, explains how the device was developed and works.
"Based on best practices from abroad, we have developed an interpersonal safe distance solution in a record time of just 30 days. It is very simple to operate – all employees need to carry a special device that measures the distance between other devices of the same type," says Marius Krupoviesas.
If the distance is unsafe, the worker immediately receives a vibrating acoustic signal due to the distance being compromised. All the information captured by the device is transmitted to an online database. This not only makes it much easier to maintain a safe distance but also to identify close contacts and the presence of a person in a company building when a case of COVID-19 virus has been confirmed.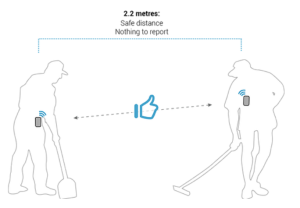 This innovation is already proving its worth in many countries – the Netherlands, the UK, Italy, Belgium, and Australia. A similar device has already been successfully deployed in manufacturing companies such as Ford and General Motors. This solution is particularly useful in manufacturing, logistics, construction, shipping, and similar business sectors where a wide range of people work.
"All businesses have suffered enormous losses as a result of the quarantine. It is, therefore, essential that business leaders are prepared in advance for unexpected pandemic situations. When the Lithuanian economy went down overnight, we started discussing with our innovation partners how to help businesses. This is how we came up with a solution to protect employees from close contact," says Artūras Kerševičius, CEO of Bioto.
According to the representative, the device allows you to measure the distance between other identical devices and quickly analyze the depersonalized data. And in the event of an infection, the necessary data can be personalized.
"Staff can optionally wear the device on a pendant around their neck or clip it to their belt. A special smart bracelet is also suggested to be worn in noisy workplaces. All these devices have a vibration signal transmitted to a person who does not keep a safe distance. This acts as a reminder. We have also thought about the multifunctionality of this device. It can also signal to the database about a person who is not moving," says Mr Krupoviesas. According to him, this is an essential feature in the event of an accident in workplaces with less chance of getting help from another worker.
The head of the innovation incubator ACC Distribution IIoT admits that there are some businesses for whom this pandemic has become a real challenge, prompting urgent action.
"Point-of-sale workers serving customers do not have the opportunity to work from home, so providing them with the safest possible working conditions is essential. Using the experience of our Belgian colleagues at WMW, we have adapted the new system to standard smart wristbands and tested a new solution for interpersonal safe distance support," says the smart solution partner.
He is pleased that the Lithuanian company Teltonika, in cooperation with ACC Distribution, has rapidly retrofitted their recording equipment that is already widely used and proven in the market.
International companies such as Actility (France), Abeeway (France), and Lansitec (China) have also contributed to the development of this solution.
The solution developers are convinced that the business impact of COVID-19 will be felt for a long time. And the more business leaders are interested in protecting their employees, the more likely they will be to protect their entire business.
Need help building and scaling your company?