Barcelona ISE: Innovative Projector Solutions Follow on the Heels of LED Screens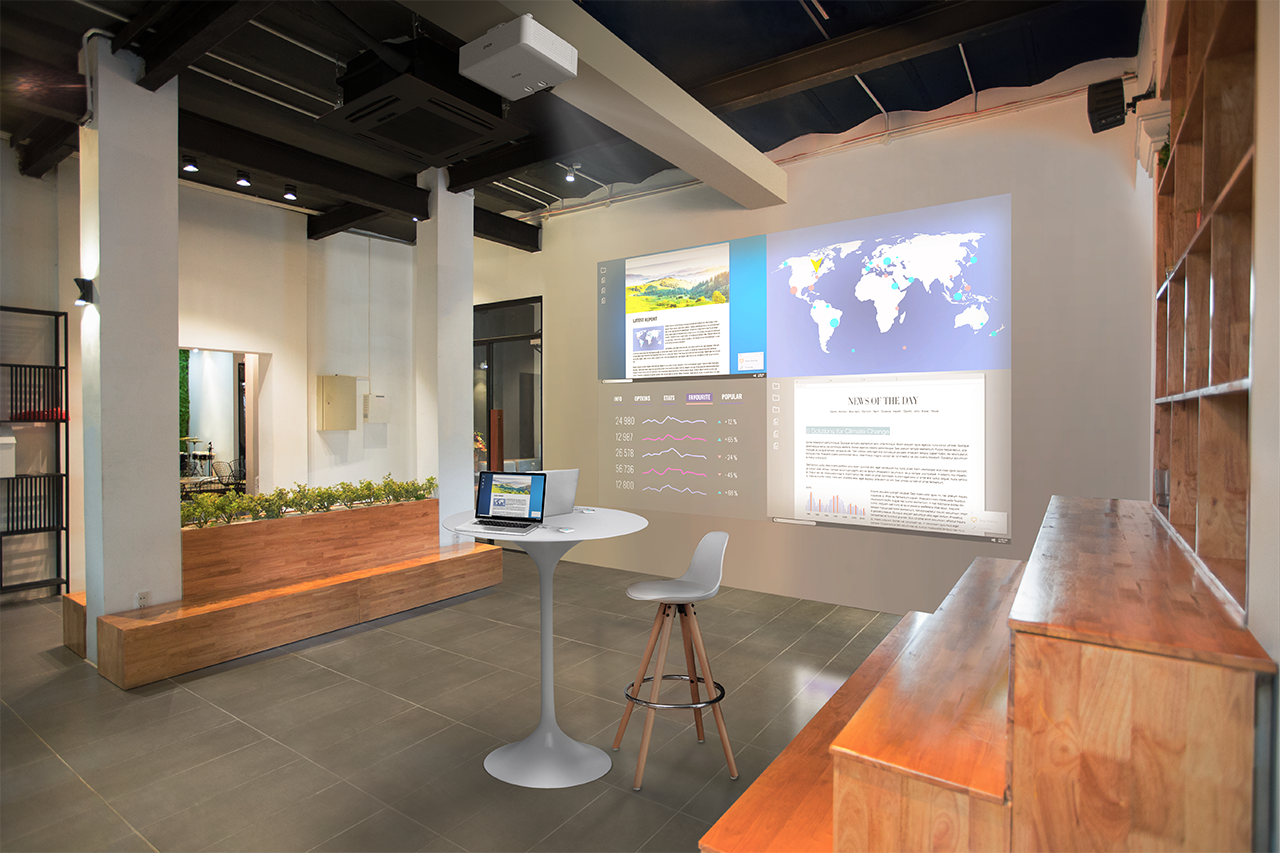 Until now, for many people, the projector has been associated with watching movies, home cinema, or business applications such as presenting slides. But at the latest technology show, ISE, in Barcelona in February this year, attendees demonstrated that the laser projector industry has long since surpassed its predecessors and is now boldly taking on the competition from market-leading LED displays.
The exhibition showcased 10 thousand and 20 thousand lumens 4K projectors. The new laser projectors are much smaller and lighter, easy to install, set up, and maintain and offer outstanding image quality. The latest projector technology combines patented, advanced 4K Crystal Motion technology, a thermal control panel, and a dual micro-lens array for optimum clarity.
Projectors are becoming more and more environmentally friendly
The projectors exhibited are the world's smallest and lightest yet — up to 60% smaller and 50% lighter than their predecessors. According to Greta Stankevičiūtė of ACC Distribution, this is not only an advantage in terms of size and weight but also in terms of reducing the environmental damage, from the use of excess resources to the cost of logistics transport.
Many projectors on display also have energy-saving modes that reduce power consumption when the projector is not in use. Manufacturers are making technological improvements to projectors in response to consumer demand, such as replacing the traditional light source with LEDs, leading to a longer projector life and lower energy consumption than traditional bulbs. In addition, some projector models are already equipped with filters that reduce dust accumulation, reducing the need for frequent maintenance. Today's leading brands in the projector market are Epson, Sony, Benq, and Appotronics.
Projectors' video capabilities create a lifelike experience
What else is characteristic of the new projectors exhibited at the latest technology show? According to the company's representative, thanks to 3LCD laser projection technology, the projectors offer ultra-high-quality, large-format images clear from any distance and angle. They are fingerprint-proof and glare-free, making them comfortable to watch and truly immersive. 3LCD stands for three liquid crystal projector lenses. This technology uses three microchips to create the image on the wall screen. This is a key factor in the dramatically increased competitive advantage against flat-panel LED displays.
The projection functionality of the latest projectors has expanded considerably, extending their applications for business, education, and hybrid work. "Interactive solutions in modern projectors can create a whole new viewer experience. They can display not only static but also 3D images. For example, a projection device can showcase an Egyptian pyramid in a way that allows a person to enter it and explore its tunnels. People can also write on the image at the same time, which helps those working in business and education sectors," says G. Stankevičiūtė.
The latest projector screens are even more sensitive to human touch. E.g., if a person touches the screen, the touched object can dance, disappear, or reflect human movement. These solutions are slowly appearing in Lithuania but are not yet being used in business or educational institutions.
The capabilities of the latest projectors can also become a breakthrough for the user experience. "For example, if you want to show a white sofa with a different patterned fabric, the projector can adapt to the contours of the sofa and show the desired colors or objects — in this case, a lot of red dots — only on the specified piece of furniture, without tilting the image a millimeter sideways. Thanks to laser technology, the image is so rich and realistic that the sofa appears to have a real red-dotted tapestry," says the ACC Distribution specialist.
According to G. Stankevičiūtė, in the future, this could make it much easier for consumers to evaluate, choose, and imagine in advance how an item would look, from the tapestry of furniture to the colors or patterns of footwear or clothing.
The era of projectors that could only display on one wall is over. By combining several different projectors, you can see a 360-degree image, creating an innovative and immersive space. The projectors can also provide sound, and have a plug-in microphone, Bluetooth, and WiFi access, allowing content to be wirelessly streamed from a computer or phone to a large screen. This projector solution is so far used more often for art exhibitions, but according to the specialist, it is only a matter of time before it moves to other spaces.
Important criteria when choosing a projector
According to the company's specialist, the most important thing to consider when choosing a projector is the resolution and brightness of the projector: "The resolution is the number of pixels on the screen. The higher the resolution, the better the image quality. Brightness is measured in lumens — the more lumens, the brighter the projector will display. Therefore, if you plan to use the projector in a bright room, you should choose a projector with a higher lumen count.
For example, if you plan to use the projector in a bright room, you should choose a projector with a higher-lumen output. If you plan to use the projector for business presentations, you should choose a projector with a higher pixel count for clearer text and graphics. If you plan to use the projector for home entertainment, you should choose a projector with a high contrast ratio to get the best picture quality."
DLP (Digital Light Processing) technology projectors are more suitable for home cinema use, while 3LCD laser projectors are ideal for the business and education sectors.
As a reminder, the ISE State of the Art Exhibition has been running for several years in a row. The event brings together the most renowned technology manufacturers and over 130,000 visitors from 150 countries. The exhibition showcases the latest display and projector solutions, hands-on training, masterclasses, and professional development programs
Need help building and scaling your company?