Article
November 24, 2022
Trends in Household Appliances: Which Solutions are Worthy of Consumers' Attention?

As much as 90 percent of population of the Baltic states use household appliances at their homes. These are some of the most popular technical devices that the users tend to constantly upgrade and use at home. Experts from ACC Distribution, who have been developing this area for more than 10 years, have noted users' desire for the household appliances that facilitate their everyday life at home to be time-saving and to meet the constantly growing number of people's new needs.
"Relevance of household appliances is well reflected in the experience of ACC Distribution – the Company entered the Lithuanian household appliances market in 2012. Portfolio of brands which are represented by the Company increased more than a hundredfold in just the first three years: in 2015, this portfolio already included 100 represented brands among which there were also the highest-level trademarks," says Aušrinė Juozelskė, Representative of ACC Distribution.
According to A. Juozelskė, this increase was also reflected by the numbers of turnover of the household appliance business: if in 2013 the turnover reached 1mln. Euro, in 2021 it already grew to 31mln. Euro. This year, the category of such devices does not show any signs of stopping, too. On the contrary, manufacturers are preparing even more solutions of efficient household appliances to offer to the market.
More Energy Efficiency
Manufacturers of household appliances are continually looking for ways to increase the value of their products: comfort and functionality are complemented by other requirements, such as aesthetic design and, of course, cost-efficiency and sustainability. According to Aušrinė Juozelskė, household appliances have been undergoing a continuous improvement over the years, in order to find the most efficient solutions to save energy resources (for example, smart appliances, which are used to adjust the switching on and off of devices). Today, in the face of record rising prices of resources, electricity and water consumption of household appliances have become of a particular importance.
"Criteria of sustainability and energy efficiency have been dominating the market of household appliances for the last 3-5 years. Manufacturers cannot neglect these needs, so they keep improving appliances rapidly, for example, if compared to class E refrigerators, the newest class A+ refrigerators have from 10 to 23 percent lower yearly energy consumption than 10 years ago. Results achieved by washing machine manufacturers are even more impressive: over the decade, energy consumption in some of their models decreased even by 43 percent, while in dishwashers – by 10-20 percent.
Nowadays, not only energy efficient, but also quick service appliances become more relevant. For example, washing machine manufacturers now agree that it is possible to wash clothes rather cleanly within just 1 hour instead of using a 2.5-hour cycle. Therefore, the duration of cycles performing cleaning, washing and other functions in household appliances is going to become even shorter. For us, it is important not only take into account these facts when forming the assortment, but also to make proper future communication to the customer about the value which is created," emphasizes A. Juozelskė.
Popularity of Assortment is Defined by Consumer Habits
Representative states that forming of the assortment of household appliances is greatly affected not only by new solutions that are continuously offered by manufacturers but also by changing priorities of users over the last decade. Users have become more demanding when choosing household appliances, and the most important criteria is the time saved.
This was particularly seen throughout the pandemics, which made a drastic change in users' behaviour. With the reduced availability of the service sector, the market demand of household appliances increased several times. It was namely small household appliances which were used to perform the culinary, health, beauty and cleaning services that people wanted to be fulfilled. For example, there was a significant increase in the demand of bread makers, sewing machines, freezers, vacuum sealers, window cleaning robots, wine coolers and hot air fryers.
"During the pandemics, people evaluated the strengths of household appliances and their habits of cleaning up using devices continues, thus, devices which grew their popularity throughout the pandemics, remain in demand in the market until today. The demand of devices, which increased during the pandemic period, showed the importance of the need for digitization of commerce and processes and the prompt supply of new niche products. In periods like this, a particularly rapid response is needed if we want to satisfy the increased demand promptly and smoothly," says the expert of household appliances.
After the pandemics, there was a significant change in users' behaviour. Earlier there was a tendency to choose cheaper products and users used to freely replace them with new ones more frequently. Whereas nowadays, before buying household appliances, users spend more time analysing their technical characteristics and choose more technologically advanced, longer-lasting household appliances which are more expensive.
In A. Juozelskė's words, it is important to notice not only changed purchasing habits, but also people's value choices. Currently, the public attitude towards sustainable consumption is extremely changing. More and more users pay attention to materials that are used to make household appliances, and the trends of sustainability encouraged manufacturers of electronic devices to create environmentally friendly packaging and to discontinue the use of foam polystyrene.
According to the representative of ACC Distribution, as the talks of global organisations about the problem of food waste are increasing, manufacturers of household appliances are continuously improving their technological solutions for vacuum sealing. This process is already simplified by Hitachi, which integrated vacuum sealing solutions in refrigerators (in the form of integrated vacuum compartments), which helps extend the shelf life of food.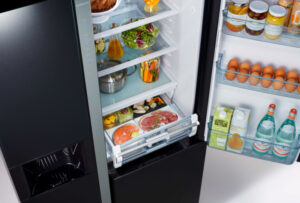 Trends: Towards Innovation and Easier Life
"Modern user is looking for innovative solutions rather than just some necessary household appliances – these are smart, app controlled devices, which are connected to the Internet of Things or use artificial intelligence technologies. It has been a while since "smart home" stopped being a sound bite, it is a modern reality, which is created namely by the use of innovative household appliances and electronic devices," summarises Aušrinė Juozelskė.
According to the representative of ACC Distribution, the latest trends of innovation in the market were best reflected at the last largest international consumer electronics fair IFA, which was held in Berlin, Germany. The topic of smart home was the main focus of event, and it showed that solutions, such as device-to-device communication of electronic devices using apps (e.g., adjustment of washing machines to drying machines), have become available. Smart systems are now being integrated in small household appliances (such as vacuum cleaners and window cleaning robots) and the majority of large home appliances (e.g., refrigerators, cooking hobs, ovens).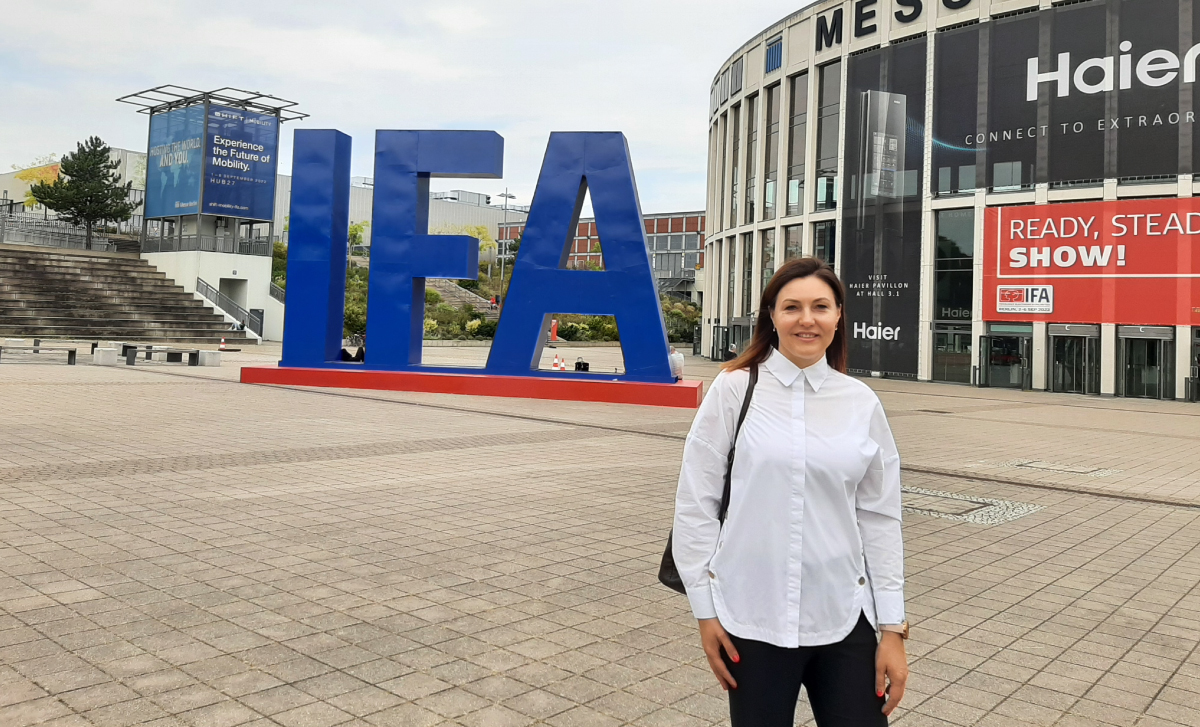 It is considered that smart technology shall regulate functionality of devices and help to communicate with the user as well as adjust the device design – IFA fair already included refrigerators with possibility to adjust colour by the user using a smart app. Thus, in future this may help to make it easier to address issues of kitchen design. Electronic devices tend to acquire simplified, upright shapes, to make household appliances easily integrated and adjusted to the surrounding colours, for example, IFA included exhibits of cooking hobs that were black, grey or white as well as made of imitation stone and marble.
According to the representative of ACC Distribution, although IFA emphasised that pandemic supply disruptions significantly reduced the space of electronic innovation, some novel and hardly seen before market solutions, such as shoe washing compartment, which is integrated at the bottom of a washing machine, were available at the fair. Also, a shoe case where shoes can be refreshed has been designed and is already available at some shoe selling points, nevertheless, in future this may become a solution which shall be frequently adjusted in users' homes.
As Aušrinė Juozelskė says, in order to maintain the popularity of household appliances in the market, sellers trading within this category shall have to give even more rapid response to users' needs, whereas manufacturers – to create new standards of comfort life. "Our mission together with household appliances is to facilitate user's life and save time, which is essential to everyone in today's fast-pace world," summarised the representative of ACC Distribution.
Need help building and scaling your company?